27 Swindon ASC swimmers were in action on Saturday 29th February in the Wiltshire Moonraker Winter League's Round 2 at the Link Centre.
The Winter League programme is quite unique in that it's all about Relays, with 34 relay events swam by 4 swimmers over 25m/50m distances and a mixed "Canon" relay at the end with 8 swimmers racing 25m each. The competition was going to be close with Marlborough and Bradford on Avon swimming A & B Teams plus also Melksham chasing for every point. After 10 events, Marlborough A opened an early lead with 57 points with BOA A and Swindon chasing 2nd and 3rd places with 42 and 40 points respectively. This set the theme for the evening with Marlborough A extending their lead after 20 events to 102 points with Swindon hot on the tails of BOA A with just 3 points separating the 2nd and 3rd placed teams – 83 and 80 points for each team.
After 34 events, the final points and positions on the evening were as follows:
| | |
| --- | --- |
| Marlborough A | 176 |
| Bradford on Avon A | 155 |
| Swindon | 136 |
| Marlborough B | 91 |
| Melksham | 86 |
| Bradford on Avon B | 59 |
Finishing in a credible 3rd place on the night, Swindon can take a lot of positives away from the competition which includes Jess / Freya / Alyssa and Emily winning the Girls Squadron 4x25m Breaststroke and Seb / Ashton / Rhys and Matt winning the Boys U13 4x25m Breaststroke. With a further twelve 2nd place finishes and nine 3rd place finishes, Swindon can look forward to the next round with confidence.
Well done to all Swindon ASC swimmers with a special shout out for Buster, who swam his first team competition.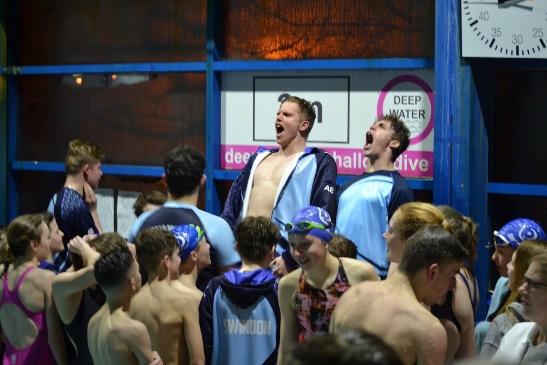 A big THANK YOU to all the officials and helpers, without whom we would not be able to have such fun!