Holly Sullivan smashed the existing Down Syndrome Junior world record by nearly 3 seconds with a time of 1:32.80.
This will help Holly in selection for the GB Team for the upcoming European championships being held in Sardinia during September 2019.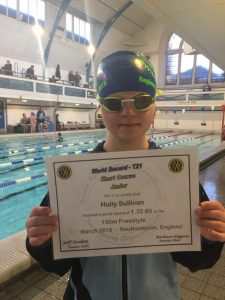 Holly started to swim when she was 4 years old at learn to swim lessons at the Swindon Oasis. With the help of her instructors and her own determination she was able to make progress over several years until she reached stage 10. At this point Holly transferred to Swindon ASC a mainstream competitive swimming club where she now trains 3 times a week. Holly is also a member of Reading Cygnets a swimming club specifically for swimmers with learning difficulties who provide additional training, support and access to competitions across the UK.
Holly is an S14 swimmer, the Para class for athletes with intellectual impairments, and has qualified to swim at County and Regional level. However because S14 is a very broad category swimmers with Down Syndrome are unable to access the elite end of this category because of a number of physical impairments which run alongside the Intellectual Impairment. To support these athletes DSISO (Down Syndrome International Swimming Organisation) was established and provide competitive swimming for Down Syndrome Athletes at National and International level. As part of DSISO Holly has been selected to swim internationally in Paris, France; Pristina, Kosovo; Truro, Canada.
Go Holly!