On Saturday 1st October Holly swam at the Down Syndrome Internationa Swimming Organisation – British Nationals held in Rugby.
This short course event exclusively for swimmers with Down's Syndrome was attended by swimmers from all over Britain and included teams from Bristol, Newcastle, Reading, Chester, Harrogate and Scotland to name a few and like all the Down's and multi-disability swimming events Holly has attended this event had an inclusive, accessible and festival feel to it.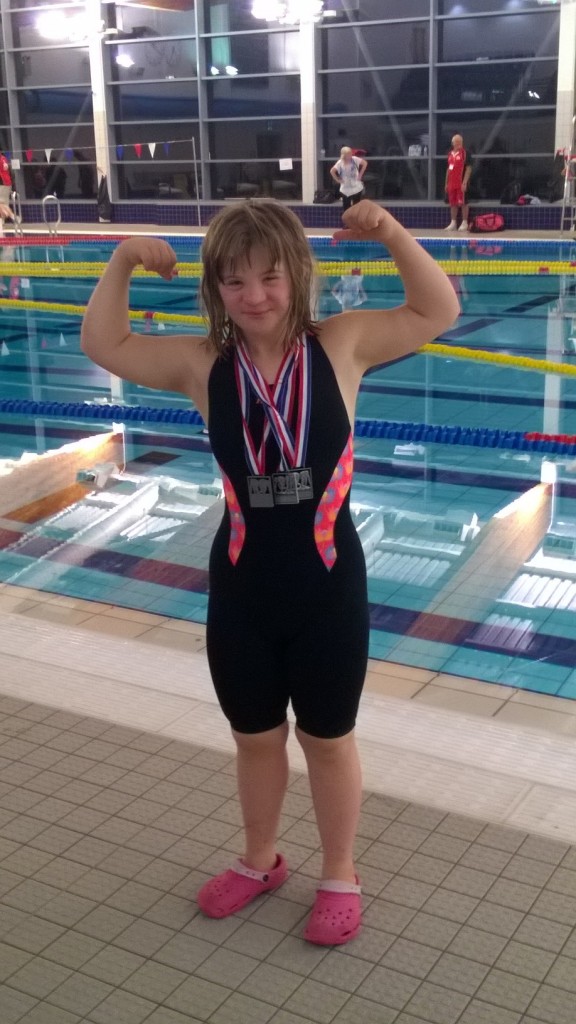 Heats were raced based on entry time rather than age which meant that Holly, at 12 was racing against swimmers twice her age or more! Medals were awarded for the first 3 finishers in each heat and a cups were awarded to the swimmer with the overall fastest time.
Swimmers were limited to 3 races and Holly picked the 100m freestyle (or 4 lengths front crawl as Holly would say), 50m freestyle and the 50m breaststroke. Diving starts and legal turns gave Holly a competitive edge and she finish in 2nd place in all 3 of her heats and her times were good enough to place her 2nd overall in the woman's 100m freestyle, 2nd overall in the woman's 50m breaststroke and 3rd overall in the woman's 50m freestyle.
Well done Holly.
Swindon ASC