Over the weekend of the 1st & 2nd of April Holly Sullivan swam at the Down's Syndrome European Open event which is held each year in Southampton. The competition attract swimmers from all over the British Isles and many European countries and this year included swimmers from Russia, Sweden, Ireland, Estonia, Spain, Scotland and of course England.
As always medals were awarded for finishing position in each heat and due to some really good entry times Holly was entered into some of the stronger heats but she still managed 2 gold (100 freestyle & 100m Backstroke) , 1 silver (100 Breaststroke) , 1 bronze medal (50 freestyle) and a ribbon for 4th place in the relay.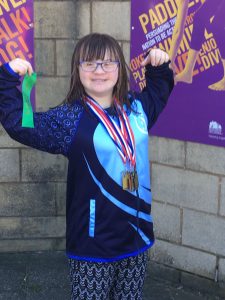 Holly's favourite event, the 100m freestyle saw her entered into the second fastest of the 5 heats but with the slowest entry time of the 7 swimmers. The heat was made up of 2 swimmers from Ireland aged 29 & 34, one from Scotland aged 34 and three from England aged 24 & 19 along with Holly herself aged just 13. Holly started strongly and the race was neck and neck for the first length however a great turn put her in pole position going into the second length and lead which she was able to maintain for the rest of the race. A new PB and gold medal for Holly after a thrilling head to head with some of the best Down's syndrome swimmers around. Holly's time – a new PB of 1:45:29 – placed her 6th overall and 3rd across the English entrants.
We are hoping that her times and performance over the weekend will allow her to qualify for the GB team which will swim in France at the end of October…..what this space.