An early start for 12 of our swimmers who entered into the Gloucester Sprint Meet on Sunday 20th September. All turned up for 7:30am looking half asleep after having the Summer League finals the night before.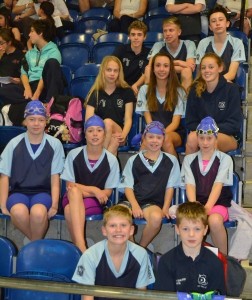 No excuses for not liking the facilities, wow! 8 lanes, spotless pool, and the swimmers and parents had somewhere to sit where they could see all the action.
Loads of room in the warm-up, excellent marshalling and totally organised.
First up was the Boys Butterfly, 13 heats; Alyx yawning on starting block, not a good sign. 4 of the 5 boys coming away with a new PB. Tyler got a 2nd place in his age group, 4th place for Rory, well done boys.
Next was 22 heats of Girls Butterfly, that's over 170 swimmers! Only Grace and Caitlin managing PB's – obviously a bit early for the rest of the girls.
Boys Backstroke, 3 of 5 recording PB's. Tyler again getting 2nd in his age group. The Girls Backstroke and they seemed more awake. 5 of 7 recording new PB's. Annabel and Alice, taking off 4 seconds, amazing!
Last event before lunch was the Boys 100m IM, 4 of 5 PB's. Tyler knocking 4 seconds off his time to get another silver. Tomas took off 2 seconds for a 4th place missing out on bronze by less than arms length.
The morning session complete with 17 PB's out of 29 races. A very short and early break for lunch.
After another warm-up the afternoon session was under-way with the Girls 100m IM.
4 out of 6 PB's. Annabel smashing a massive 10 second PB ,Caitlin 8 Second PB, Alice 3 second PB and Olivia 2 Second PB keep up the good training girls.
50m Breaststroke next and a PB of 6 secs getting 40.64 and Rory dying to tell Alyx and Tomas how close his time is to theirs, this, as you can imagine, forcing a reaction with Alyx and Tomas "he ain't gonna beat us at breaststroke". Did they try? Yes they did! Bronze for Tomas and a 2 second PB, a little glance after the turn and he sped right up……… no looking Mr …….. sprint to start with. A 1½ second PB for Alyx ………………… first in his heat after turn, first in his heat at the flags, you all know who Tomas was looking at, he knew he could get him especially when Alyx thinks the race finishes at the flags and not the wall.
Grace achieved Silver in her 50BR just off of her short course personal best but a fabulous swim, well done.
Good swims all round in the final event 50m Freestyle and another Silver for Tyler.
Afternoon session finished with 17 PB's out of 29 races.
Some tough teams but well done everyone you did our club proud.
Thanks to all the officials, helpers and parents for your support.